Trailer Type Core Drilling Rig
Product Detail
Product Tags
Fundamental parameters

 

Unit

XYT-1A

XYT-1B

XYT-280

XYT-2B

XYT-3B

Drilling depth

m

100,180

200

280

300

600

Drilling diameter

mm

150

59-150

60-380

80-520

75-800

Rod diameter

mm

42,43

42

50

50/60

50/60

Drilling angle

°

90-75

90-75

70-90

70-90

70-90

Overall dimension

mm

4500x2200x2200

4500x2200x2200

5500x2200x2350

4460x1890x2250

5000x2200x2300

Rig weight  

kg

3500

3500

3320

3320

4120

Skid

 

●

●

●

/

/

 Rotation unit

Spindle speed

r/min

1010,790,470,295,140

71,142,310,620

/

/

/

Co-rotation

r/min

/

/

93,207,306,399,680,888

70,146,179,267,370,450,677,1145,

75,135,160,280,355,495,615,1030,

Reverse rotation

r/min

/

/

70, 155

62, 157

62,160

Spindle stroke   

mm

450

450

510

550

550

Spindle pulling force      

KN

25

25

49

68

68

Spindle feeding force     

KN

15

15

29

46

46

Maximum output torque  

N.m

500

1250

1600

2550

3550

Hoist

Lifting speed

m/s

0.31,0.66,1.05

0.166,0.331,0.733,1.465

0.34,0.75,1.10

0.64,1.33,2.44

0.31,0.62,1.18,2.0

Lifting capacity

KN

11

15

20

25,15,7.5

30

Cable diameter

mm

9.3

9.3

12

15

15

Drum diameter  

mm

140

140

170

200

264

Brake diameter

mm

252

252

296

350

460

Brake band width

mm

50

50

60

74

90

Frame moving device

Frame moving stroke

mm

410

410

410

410

410

Distance away from hole

mm

250

250

250

300

300

Hydraulic oil pump

Type

 

YBC-12/80

YBC-12/80

YBC12-125  (left)

CBW-E320

CBW-E320

Rated flow

L/min

12

12

18

40

40

Rated pressure

Mpa

8

8

10

8

8

Rated rotation speed

r/min

1500

1500

2500

 

 

Power unit (Diesel engine)

Type

 

S1100

ZS1105

L28

N485Q

CZ4102

Rated power

KW

12.1

12.1

20

24.6

35.3

Rated speed

 r/min

2200

2200

2200

1800

2000
(1) Compact size and light weight of mechanical transmission, larger diameter of rotating unit's spindle, long distance of support span and good rigidity, hexagonal Kelly ensure the torque transfer.
(2) The trailer is equipped with radial tyres, and four hydraulic supporting jacks, which is used for leveling the drill before working and strength the stability of rig.
(3) The hydraulic mast is composed of main mast and mast extension, which greatly improve working efficiency, and are very easy for transportation and operation. Compared with common core drilling rig, trailer type core drilling rigs have put off heavy derrick and save cost.
(4) With high and optimum rotating speed, the rig can meet various requirements of small diameter diamond drilling, large diameter carbide drilling and all kinds of the engineering hole drilling.
(5) During the feeding process, the hydraulic system could adjust the feeding speed and pressure to meet requirements of drilling in various stratums.
(6) A bottom-hole pressure gauge is equipped to monitor the drilling pressure.
(7) Automobile type transmission and clutch are equipped to achieve good commonality and easy maintenance.
(8) Centralized control panel makes operation convenient.
(9) The octagonal structure spindle is more suitable to transmission in large torque.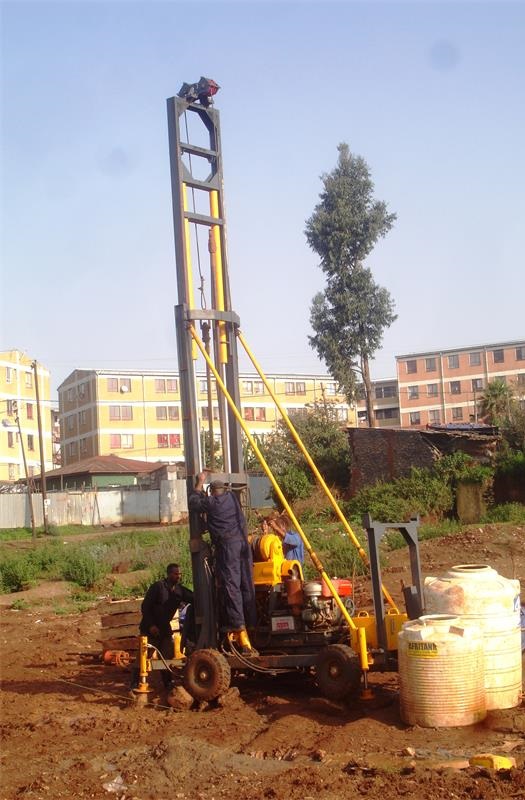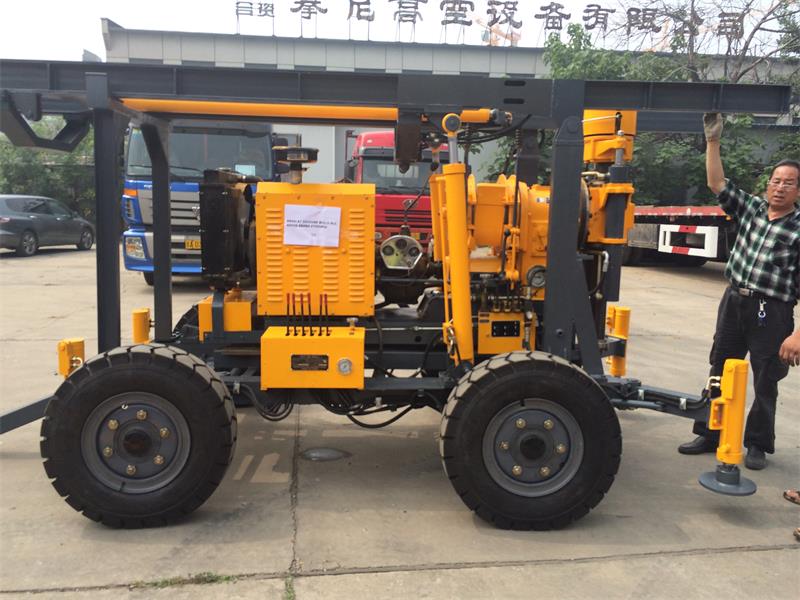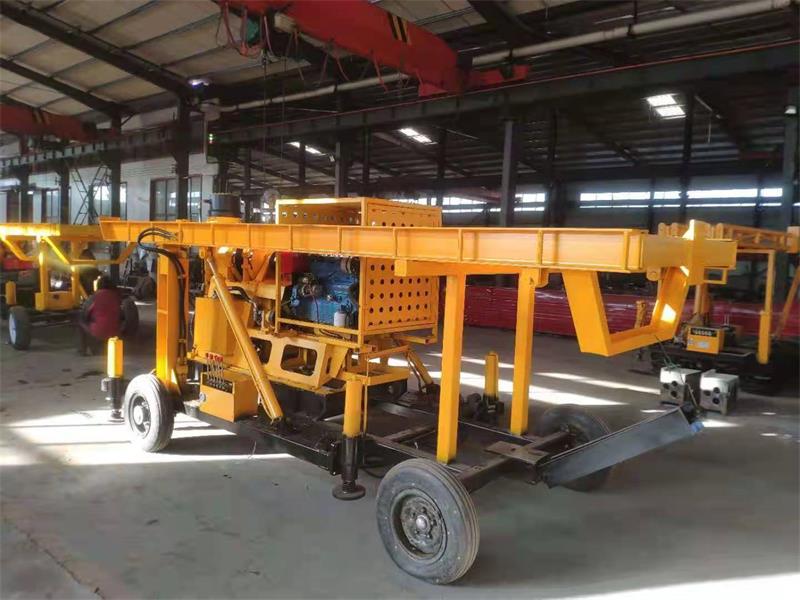 ---
Previous:
SNR300 Water Well Drilling Rig
---