XY-1B Core Drilling Rig
Product Detail
Product Tags
Fundamental




parameters

Drilling depth

200,150,100,70,50,30m

Hole diameter

59,75,91,110,130,150mm

Rod diameter

42mm

Angle of drilling

90°-75°

Rotation




unit

Spindle speed(4 shift)

71,142,310,620rpm

Spindle stroke

450mm

Max. feeding pressure

15KN

Max. lifting capacity

25KN

Max. Spindle lifting speed without load

0.05m/s

Max. Spindle downward without load

0.067m/s

Max. Spindle output torque

1.25KN.m

Hoist

lifting capacity(single line)

15KN

Drum speed

19,38,84,168rpm

Diameter of the drum

140mm

Drum circumferential velocity(second layers)

0.166,0.331,0.733,1.465m/s

Diameter of the wire rope

9.3mm

Brake diameter

252mm

Brake band broad

50mm

Hydraulic




oil pump

Model

YBC-12/80

Rated pressure

8Mpa

Flow

12L/min

Rated speed

1500rpm

Power unit

Type of diesel(ZS1105)

Rated power

12.1KW

Rated rotating speed

2200rpm

Type of electrical motor(Y160M-4)

Rated power

11KW

Rated rotating speed

1460rpm

Overall dimension

XY-1B

1433*697*1273mm

XY-1B-1

1750*780*1273mm

XY-1B-2

1780*697*1650mm

Total weight(not include power unit)

XY-1B

525kg

XY-1B-1

595kg

XY-1B-2

700kg
Engineering geological explorations for railway, highway, bridge and dam etc; Geologic core drilling and geophysical exploration. Drill the holes for small grouting, blasting and small water well. The rated drilling depth is 150 meters.
(1)Being equipped with ball type holding device and hexagonal Kelly, it can accomplish no-stopping working while lifting the rods, thus drilling efficiency increase. Operate conveniently, secure and reliable.
(2)Through the pressure indicator of bottom hole, the well condition can be observed easily. Close levers, convenient operation.
(3)The hoist spindle is supported by the ball bearing, it could eliminate the event of the supporting bearing burned-out. Under the spindle head, there is a well top plate for unscrewing the rods conveniently.
(4)Compact size and small weight. Easy to dismantle and transport, adapt to work in plain and mountain areas.
(5)The octagon shape section spindle can give more torque.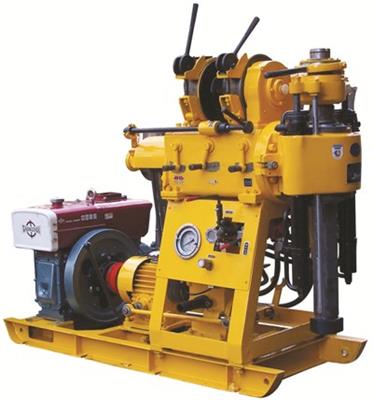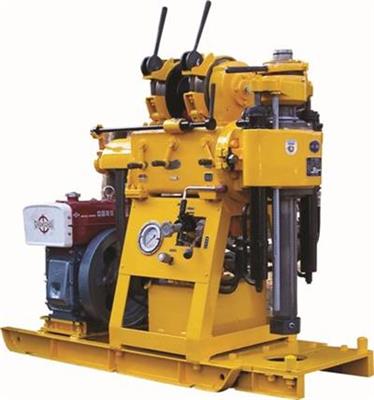 ---
Previous:
SNR1000 Water Well Drilling Rig
---