SNR1000 Water Well Drilling Rig
Product Detail
Product Tags
Item

Unit

SNR1000

Max drilling depth

m

1000

Drilling diameter

mm

105-800

Air pressure

Mpa

1.6-8

Air consumption

m3/min

16-96

Rod length

m

6

Rod diameter

mm

114/127

Main shaft pressure

T

8

Lifting force

T

52

Fast lifting speed

m/min

30

Fast forwarding speed

m/min

61

Max rotary torque

N.m

20000/10000

Max rotary speed

r/min

70/140

Big secondary winch lifting force

T

-

Small secondary winch lifting force

T

2.5

Jacks stroke

m

1.7

Drilling efficiency

m/h

10-35

Moving speed

Km/h

5

Uphill angle

°

21

Weight of the rig

T

17.5

Dimension

m

7*2.25*2.65

Working condition

Unconsolidated formation and Bedrock

Drilling method

Top drive hydraulic rotary and pushing, hammer or mud drilling

Suitable hammer

Medium and high air pressure series

Optional accessories

Mud pump, Gentrifugal pump, Generator, Foam pump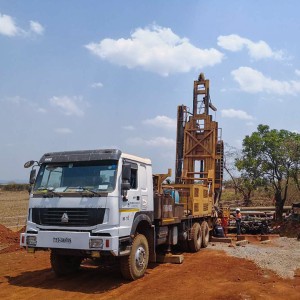 SNR1000C drilling rig is a kind of medium and high efficient full hydraulic multifunctional water well drill rig for drilling up to 1200m and is used for water well,monitoring wells, engineering of ground-source heat pump air-conditioner,blasting hole, bolting and anchor cable, micro pile etc. Compactness and solidity are the main characteristics of the rig which is designed to work with several drilling method: reverse circulation by mud and by air, down the hole hammer drilling, conventional circulation. It can meet the drilling demand in different geological conditions and other vertical holes.
1. Full hydraulic control is convenient and flexible
The speed, torque, thrust axial pressure, reverse axial pressure, thrust speed and lifting speed of the drilling rig can be adjusted at any time to meet the requirements of different drilling conditions and different construction technologies.
2. Advantages of top drive rotary propulsion
It is convenient to take over and unload the drill pipe, shorten the auxiliary time, and is also conducive to follow-up drilling.
3. It can be used for multi-function drilling
All kinds of drilling techniques can be used on this kind of drilling machine, such as down the hole drilling, through air reverse circulation drilling, air lift reverse circulation drilling, cutting drilling, cone drilling, pipe following drilling, etc. The drilling machine can install mud pump, foam pump and generator according to the needs of users. The rig is also equipped with a variety of hoists to meet the different needs of customers.
4. High efficiency and low cost
Due to full hydraulic drive and top drive rotary propulsion, it is suitable for all kinds of drilling technology and drilling tools, with convenient and flexible control, fast drilling speed and short auxiliary time, so it has high operation efficiency. The down the hole hammer drilling technology is the main drilling technology of the drilling rig in the rock. The down the hole hammer drilling operation efficiency is high, and the single meter drilling cost is lower.
5. It can be equipped with high leg crawler chassis
The high outrigger is convenient for loading and transportation, and can be loaded directly without crane. Crawler walking is more suitable for muddy field movement.
6.Use of oil mist eliminator
Efficient and durable oil mist device and oil mist pump. In the process of drilling, the high-speed running impactor is lubricated all the time to extend its service life to a greater extent.
7. The positive and negative axial pressure can be adjusted
The best impact efficiency of all kinds of impactors has its best matching axial pressure and speed. In the process of drilling, with the increasing number of drill pipes, the axial pressure on the impactor is also increasing. Therefore, in the construction, the positive and negative axial pressure valves can be adjusted to ensure that the impactor can obtain more matching axial pressure. At this time, the impact efficiency is higher.
8. Optional rig chassis
The rig can be mounted on crawler chassis, truck chassis or trailer chassis.
---
Previous:
XY-1A Core Drilling Rig
Next:
XY-1B Core Drilling Rig
---