MEDIAN Tunnel Multifunction Rig
Product Detail
Product Tags
Fundamental
parameters

Drilling diameter

250-110mm

Drilling depth

50-150m

Drilling angle

full range

Overall dimension

Horizon

6400*2400*3450mm

Vertical

6300*2400*8100mm

Drilling rig weight

16000kg

Rotation unit
(TPI700)

Rotation speed

Single
motor

Low speed

0-176r/min

High speed

0-600r/min

Double
motor

Low speed

0-87r/min

High speed

0-302r/min

Torque

0-176r/min

 

3600Nm

0-600r/min

 

900Nm

0-87r/min

 

7200Nm

0-302r/min

 

1790Nm

Rotation unit feeding stroke

3600mm

Feeding system

Rotation lifting force

70KN

Rotation feeding force

60KN

Rotation lifting speed

17-45m/min

Rotation feeding speed

17-45m/min

Clamp holder

Clamp range

45-255mm

Break torque

19000Nm

Traction

Body width

2400mm

Crawler's width

500mm

Theory speed

1.7Km/h

Rated traction force

16KNm

Slope

35°

Max. lean angle

20°

Power

Single diesel
engine

Rated power

 

109KW

Rated rotating speed

 

2150r/min

Deutz AG 1013C air cooling

 

 

Double diesel
engine

Rated power

 

47KW

Rated rotating speed

 

2300r/min

Deutz AG 2011 air cooling

 

 

Electricity motor

Rated power

 

90KW

Rated rotating speed

 

3000r/min
MEDIAN Tunnel Multifunction Rig is a multipurpose tunnel drilling rig. It is Corporate with France TEC and manufactured a new, full hydraulic and automatic intelligent machine. MEDIAN can be used for tunnel, underground and wide range projects.
(1) Compact size, suitable for wide range projects.
(2) Drilling rod: Level 360 degree, vertical 120 degree/-20 degree, 2650mm adjust range for any angles.
(3) Drilling feeding stroke 3600mm, high efficiently.
(4) Equipped clamp holder and breaker, full automatic, easy to operate.
(5) Easy to locate drilling position, full angle drilling.
(6) Hydraulic crawler drive, mobility, wired-remote control, safe and convenient.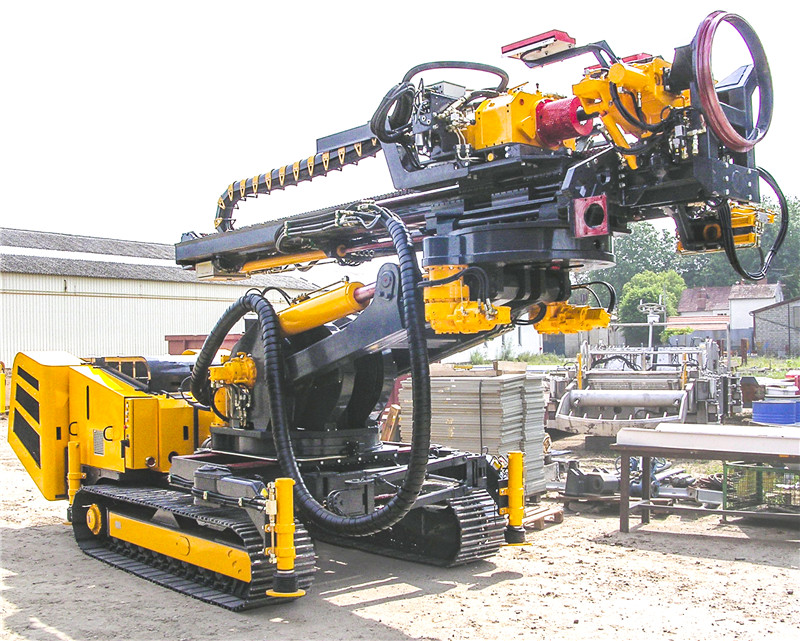 Features of MEDIAN Tunnel Multifunction Rig
-Compact in structure,our drilling rig is ideally suited for working in limited spaces
-The mast of this machine can turn 360° in horizontal direction, 120°/ -20°in vertical direction. The  height can be adjusted at 2650 mm.So drilling in all directions can be realized
-The translation of mast can reach 3600 mm, resulting in high efficiency
-Easy control of this machine is achieved due to the use of electric controller
-The functions include translation and rotation of the pivot, tilting angle adjusting of the mast, reposition of the drilling hole, pull-down pressure adjusting, pull up speed adjusting, rotation speed adjust of rotation head etc
-Equipped with powerful engine,our drilling rig can be used in a wide range of engineering constructions.
---
Previous:
CQUY100 Hydraulic Crawler Crane
---