SD2200 Attachment drilling Rig
Product Detail
Product Tags
Full hydraulic multifunctional drilling rig SD2200 
Model

SD2200

Undercarriage

HQY5000A

Engine power

199 kw

Rotating speed

1900 rpm

Main pump flow

2X266 L/min

Nominal torque

220 kN.m

Speed of rotation

6~27 rpm

Spin off speed

78 rpm

Max drilling depth

75 m

Max drilling diameter

2200 mm

Max crowd force

180 kN

Max pull force

180 kN

Crowd stroke

1800 mm

Rope diameter

26 mm

Line pull (force 1st layer) of main winch

200 kN

Lind speed max of main winch

95 m/min

Rope diameter of auxiliary winch

26 mm

Line pull (force 1st layer) of auxiliary winch

200 kN

Outer pipe diameter of kelly bar

Φ406

Kelly bar (Standard)

5X14m(Friction)

4X14m(Interlocking)

Kelly bar (Extension)

5X17m(Friction)

4X17m(Interlocking)
HQY5000A Crane technical data (Lifting capacity 70 ton)
Item
Data

Max rated lifting capacity

70 t

Boom length

12-54 m

Fixed jib length 

9-18 m

Boom+jib max length 

45+18 m

Boom derricking angle

30-80°

Hook

70/50/25/9 t

Working speed

 

Rope speed

 

Main winch hoist/lower

Rope Dia26

*High speed 116/58 m/min

Low speed 80/40 m/min

(4th layer)

Auxiliary winch hoist/lower

 

*High speed 116/58 m/min

Low speed 80/40 m/min

(4th layer)

Boom hoist

Rope Dia 20

52 m/min

Boom lower

52 m/min

Slewing speed

2.7 r/min

Traveling speed

1.36 km/h

Gradeability(with basic boom,cab in the rear)

40%

Diesel engine rated output power/rev

185/2100 KW/r/min

Whole crane mass(without grab bucket)

88 t

(

with boom foot 70 ton hook)

Grounding pressure

0.078 Mpa

Counterweight

30 t
Noted: Speed with* may vary with the load.
HQY5000A Technical Data (Tamper)
Item

Data

Tamper grade

5000 KN.m (Max12000KN.m)

Rated hammer weight

25 t

Boom length (angle steel boom)

28 m

Boom working angle

73-76°

Hook

80/50t

Working speed

 

Rope speed

Main winch hoist

Rope Dia 26

0-95m/min

Main winch lower

 

0-95m/min

Boom hoist

Rope Dia  16

52 m/min

Boom lower

52 m/min

Slewing speed

2.7 r/min

Traveling speed

1.36 km/h

Gradeability (with basic boom,cab in the rear)

40%

Engine power/rev

199/1900 KW/r/min

Single rope pull

20 t

Hoisting height

28.8 m

Working radius

8.8-10.2m

Main crane transportation dimension(Lx Wx H)

7800x3500x3462 mm

Whole crane weight

88 t

Grounding pressure

0.078 Mpa

Counter weight

30 t

Max single transport quantity

48 t
Casing rotator dia 1500MM(optional)
Main specification of casing rotator

Drilling diameter

800-1500 mm

Rotating torque

1500/975/600 kN.m Max1800 kN.m

Rotating speed

1.6/2.46/4.0 rpm

Lower pressure of casing

Max 360KN + self weight 210KN

Pull force of casing

2444 kN Max 2690 kN

Pressure-pulling stroke

750 mm

Weight

31 ton +( crawler optional) 7 ton
Main specification of power station

Engine model

(ISUZU) AA-6HK1XQP

Engine power

183.9/2000 kw/rpm

Fuel consumption

226.6 g/kw/h( max)

weight

7 t

Control model

Wired remote control
SD2200 is a multi-functional full-hydraulic pile machine with advanced international technology. It can not only drill bored piles, percussion drilling, dynamic compaction on soft foundation, but also has all the functions of rotary drilling rig and crawler crane. It also surpasses the traditional rotary drilling rig, such as ultra-deep hole drilling, perfect combination with full casing drilling rig to carry out complex work. It is especially suitable for the construction of occlusive pile, bridge pile, Sea and river Port foundation pile and high precision pile foundation of subway. The new super drilling rig has the advantages of high construction efficiency, low energy consumption and green advantages, and has the function of intellectualization and multi-purpose. The super drilling rig can be used in all kinds of complex terrain, such as Cobble and Boulder stratum, hard rock stratum, karst cave stratum and thick quicksand stratum, and can also be used to break old piles and waste piles.
Rotary drilling function
Extruding and expanding function of expanded pile.
Impact hammer function.
Drive casing, wall protection and casing drilling function.
Caterpillar crane hoisting function
Reinforcing cage of pile driver and lifting function of drilling tool
This machine is multi-functional, can use all kinds of rotary drilling buckets and drilling tools for rotary drilling, function,at the same time, make use of their own advantages of variety of equipment in one, an engine to provide energy,energy saving, green economy.
Low fuel consumption and high construction efficiency, drill pipe can be quickly raised and lowered.
One machine can be used for rotary drilling. It can also be used as a crawler crane and a dynamic compaction machine.
Heavy crawler crane chassis with super stability, suitable for large torque drilling, as well as ultra-deep hole drilling.
Perfect combination of full casing drilling rig for large torque casing drive, the realization of multi-functional integration of drilling machinery, casing drive drilling, rotary excavation, heavy hammer impact hard rock, rock grab,break old piles.
The super drilling rig has the advantages of high integration, small construction area, suitable for high density urban municipal infrastructure projects, marine River platform foundation construction, greatly saving auxiliary construction costs.
The Al technology module can be loaded to realize the intellectualization of the equipment.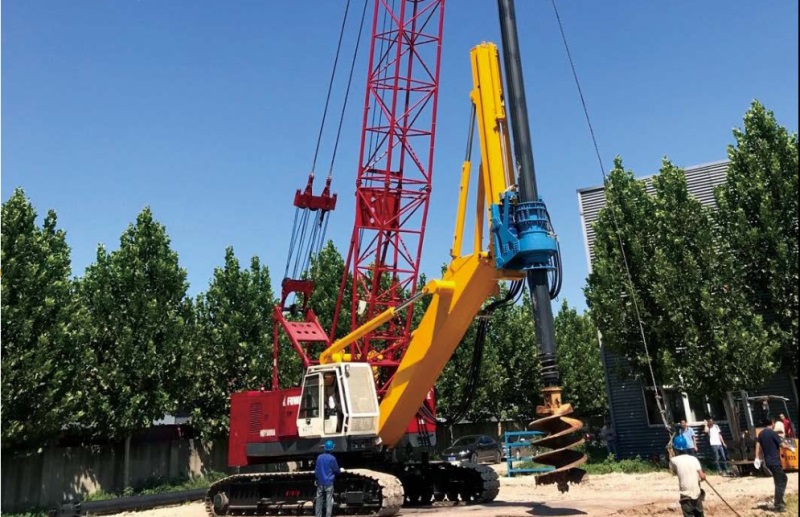 ---
Previous:
CQUY55 Hydraulic Crawler Crane
Next:
Desander
---