SHY- 5A Full Hydraulic Core Drilling Rig
Product Detail
Product Tags
SHY-5A is a hydraulic compact diamond core drilling rig that has been designed with modular sections. This allows for the rig to be disassembled into smaller parts, improving mobility.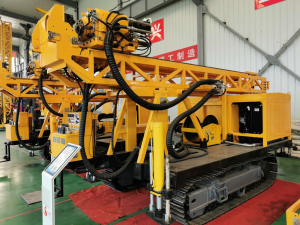 Technical Parameters of SHY-5A Full Hydraulic Core Drilling Rig:
Model

SHY-5A

Diesel Engine

Power

145kw

Drilling Capacity

BQ

1500m

NQ

1300m

HQ

1000m

PQ

680m

Rotator Capacity

RPM

0-1050rpm

Max. Torque

4650Nm

Max. Lifting Capacity

15000kg

Max. Feeding Power

7500kg

Foot Clamp

Clamping Diameter

55.5-117.5mm

Main hoister lifting force (Single rope)

7700kg

Wire hoister lifting force

1200kg

Mast

Drilling Angle

45°-90°

Feeding Stroke

3200mm

Slippage Stroke

1100mm

Other

Weight

8500kg

Transport Way

Crawler
Main Features of SHY-5A Full Hydraulic Core Drilling Rig
1. Adopt full hydraulic driving, moving with crawlers itself.
2. Drill head is driven by variable motor with function of two-speed mechanical gear shifts, stepless speed change with an advanced and simple structure.
3. Rotator is fed and driven with a system connecting the spindle and oil cylinder with chain.
4. Mast could be adjusted for its drilling hole with a low center of gravity and good stability.
5. Big torque, powerful driving force, rational and practical design, lower noisy advanced controlling mode, external appearance, a compacted structure, a reliable function, and a flexible operating system.
6. Diesel engine, hydraulic pump, main valves, motors, crawler reducers and key hydraulic spare parts are all adapted famous brands products which are easy to buy and maintenance.
7. Rig provides operator with a nice field of vision and wide and comfortable working condition.
SHY- 5A Full Hydraulic Core Drilling Rig is suited for the following drilling applications
1. Diamond core drilling
2. Directional drilling
3. Reverse circulation continuous coring
4. Percussion rotary
5. Geo-tech
6. Water bores
7. Anchorage.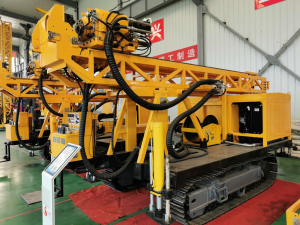 ---
---