Horizontal Directional Drilling Rig
Product Detail
Product Tags
Model
Unit
SHD16
SHD18
SHD20
SHD26
SHD32
SHD38

Engine

 

Shangchai

CUMMINS

CUMMINS

CUMMINS

Shangchai

CUMMINS

CUMMINS

Rated power

KW

100

97

132

132

140/160

160

Max.pullback

KN

160

180

200

260

320

380

Max. thrusting

KN

100

180

200

260

200

380

Spindle torque(max)

N.m

5000

6000

7000

9000

12000

15500

Spindle speed

r/min

0-180

0-140

0-110

0-140

0-140

0-100

Backreaming diameter

mm

600

600

600

750

800

900

Tubing length (single)

m

3

3

3

3

3

3

Tubing diameter

mm

60

60

60

73

73

73

Entry angle

°

10-23

10-22

10-20

10-22

10-20

10-20

Mud pressure (max)

bar

100

80

90

80

80

80

Mud flow rate (max)

L/min

160

250

240

250

320

350

Dimension (L* W* H)

m

5.7*1.8*2.4

6.4*2.3*2.4

6.3*2.1*2.0

6.5*2.3*2.5

7.1*2.3*2.5

7 *2.2*2.5

Overall weight

t

6.1

10

8.9

8

10.5

11
| | | | | | | | | |
| --- | --- | --- | --- | --- | --- | --- | --- | --- |
| Model | Unit | SHD45 | SHD50 | SHD68 | SHD100 | SHD125 | SHD200 | SHD300 |
| Engine |   | CUMMINS | CUMMINS | CUMMINS | CUMMINS | CUMMINS | CUMMINS | CUMMINS |
| Rated power | KW | 179 | 194 | 250 | 392 | 239*2 |  250*2 | 298*2 |
| Max.pullback | KN |  450 | 500 | 680 | 1000 | 1420 | 2380 | 3000 |
| Max. thrusting | KN | 450 | 500 | 680 | 1000 | 1420 | 2380 | 3000 |
| Spindle torque(max) | N.m | 18000 | 18000 | 27000 | 55000 | 60000 | 74600 | 110000 |
| Spindle speed | r/min | 0-100 | 0-108 | 0-100 | 0-80 | 0-85 | 0-90 | 0-76 |
| Backreaming diameter | mm | 1300 | 900 | 1000 | 1200 | 1500 | 1800 | 1600 |
| Tubing length (single) | m | 4.5 | 4.5 | 6 | 9.6 | 9.6 | 9.6 | 9.6 |
| Tubing diameter | mm | 89 | 89 | 102 | 127 | 127 | 127 | 127 140 |
| Entry angle | ° | 8-20 | 10-20 | 10-18 | 10-18 | 8-18 | 8-20 | 8-18 |
| Mud pressure (max) | bar | 80 | 100 | 100 | 200 | 80 | 150 | 200 |
| Mud flow rate (max) | L/min | 450 | 600 | 600 | 1200 | 1200 | 1500 | 3000 |
| Dimension (L* W* H) | m | 8*2.3*2.4 | 9*2.7*3 | 11*2.8*3.3 | 14.5*3.2*3.4 | 16*3.2*2.8 | 17*3.1*2.9 | 14.5*3.2*3.4 |
| Overall weight | t | 13.5 | 18 | 25 | 32 | 32 | 41 | 45 |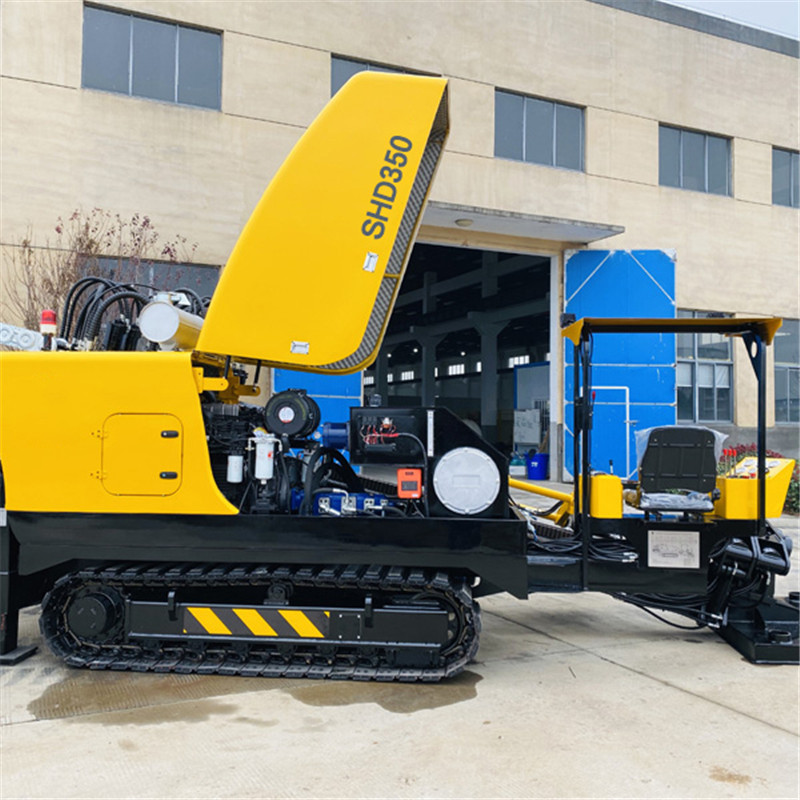 Horizontal directional drilling or directional boring is a method of installing undergroud pipes,conduits or cable by using a surface lauched drilling rig.This method results in little impact on the surrounding area and is mainly used when trenching or excavating is not practical.
We are a professional horizontal directional drill manufacturer in China.Our horizontal directional drilling rigs are primarily used in trenchless piping construction and replacement of the underground pipes. Having the advantages of advanced performance,high efficiency and ease of operation.Our horizontal directional drills are increasingly used in the construction of the water piping, gas piping, electricity,telecommunication,heating systems,and crude oil industry
SHD series Horizontal Directional Drills are mainly used in the trenchless piping construction and re-placement of the underground pipe. The SHD series horizontal directional drills have the advantages of advanced performance, high efficiency and comfortable operation. Many key components adopt international famous products to guarantee the quality. They are the ideal machines for construction of the water piping, gas piping, electricity, telecommunication, heating system, crude oil industry.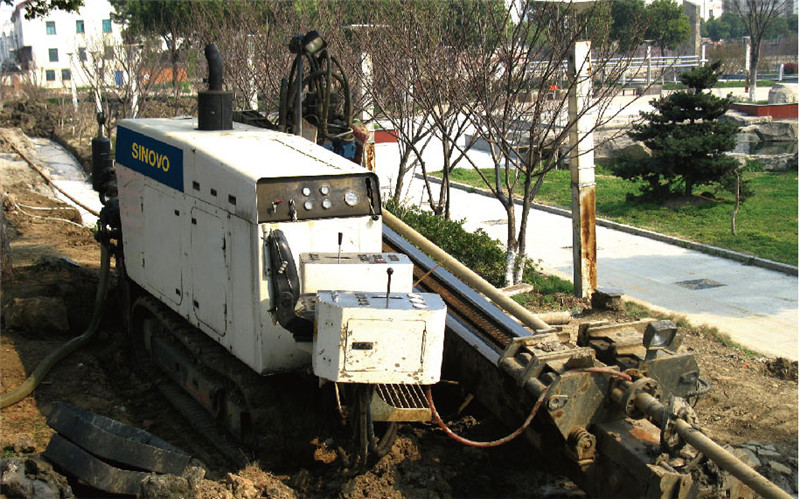 Performance and Characteristic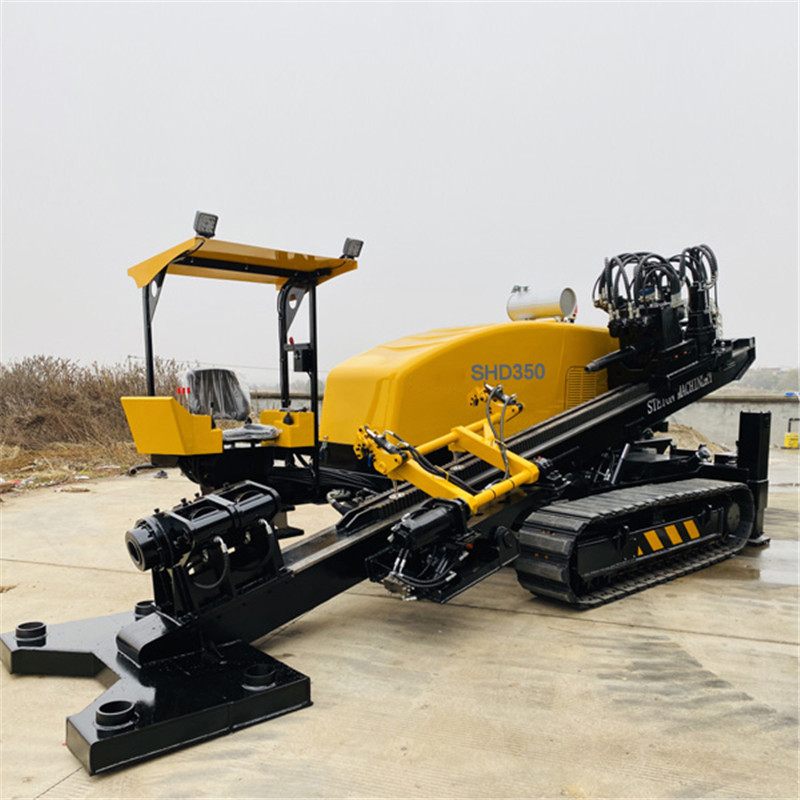 1. Pluralities of advanced control technologies are adopted, including the PLC control, electro-hydraulic proportion control, load sensitive control, etc.
2. The drilling rod automatic disassemble and assembly device can improve the working efficiency, relieves the labor intensity and manual error operation of the operators, and reduces the construction personnel and the construction cost.
3. Automatic anchor: the down and the up of the anchor is driven by hydraulics. The anchor is great in force and is easy and convenient to operate.
4. The dual-speed power head is operated with low speed when drilling and dragging back to ensure smooth construction, and can speed up to slide with 2 times of speed to reduce the auxiliary time and improve the working efficiency when returning and disassembling the drilling rod with empty loads.
5. The engine has the turbine torque increment characteristic, which can instantly increase the power to ensure the drilling power when coming across the complex geology.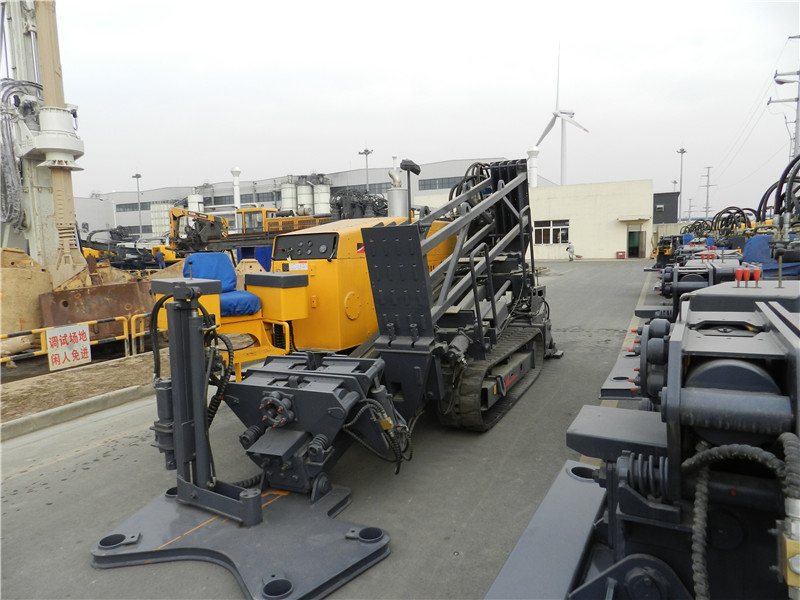 6. The power head has high rotation speed, good boring effect and high construction efficiency.
7. Single-lever operation: it is convenient to precisely control and is easy and comfortable to operate in performing various functions such as thrust/pullback and rotary, etc.
8. The rope controller can carry out the disassembly and assembly vehicle operation with single person, with safe and high efficiency.
9. The floating vice with patent technology can effectively prolong the service of life of the drilling rod.
10. The engine, hydraulic parameter monitoring alarm and a plurality of safety protection are provided to effectively protect the safety of the operators and the machines.
---
Previous:
B1500 Full Hydraulic Casing Extractor
---