TR360 Rotary Drilling Rig
Product Detail
Product Tags
Engine

Model

 

SCANIA/CAT

Rated power

kw

331

Rated speed

r/min

2200

Rotary head

Max.output torque

kN´m

360

Drilling speed

r/min

5-23

Max. drilling diameter

mm

2500

Max. drilling depth

m

66/100

Crowd cylinder system

Max. crowd force

Kn

300

Max. extraction force

Kn

300

Max. stroke

mm

6000

Main winch

Max. pull force

Kn

360

Max. pull speed

m/min

63

Wire rope diameter

mm

36

Auxiliary winch

Max. pull force

Kn

100

Max. pull speed

m/min

65

Wire rope diameter

mm

20

Mast inclination Side/ forwards/ backwards

°

±3/3.5/90

Interlocking Kelly bar

 

ɸ530*4*18m

Friction Kelly bar (optional)

 

ɸ530*6*18m

 

Traction

Kn

720

Tracks width

mm

800

Caterpillar grounding Length

mm

5160

Working Pressure of Hydraulic System

Mpa

32

Total weight with kelly bar

kg

113000

Dimension

Working (Lx Wx H)

mm

9490x4800x26290

Transportation (Lx Wx H)

mm

17872x3600x3400
TR360D rotary drilling rig is new designed sell-erecting ig mounted on original Caterpillar 345D base adopts advanced hydraulic loading back technology integrates advanced electronic control technology, which makes the whole performance of TR360D rotary drilling rig each advanced world standards.
TR360D rotary drilling rig is specially designed to suit the following applications: 
Drilling with telescopic friction or interlocking kelly bar-standard Supply ,
Drilling cased bore piles(casing driven by rotary head or optionally by casing oscillation)
CFA Piles by means of continue auger
:Either crowd winch system or hydraulic crowd cylinder system
Displacement piles 
Soil-mixing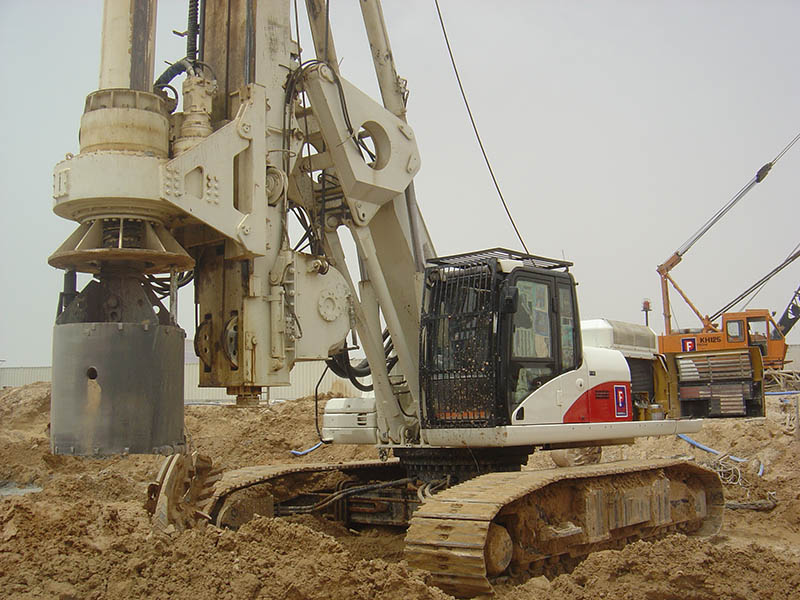 Adopts Big - Triangle support structure to guarantee the working stability for drilling rig.
Advanced rotary head is designed by the total innovative technology , and absorb the latest development in foundation equipment . Driven by three hydraulic motors with the configured reducers , the rotary head failure rate will be declined greatly by the single reduction gear unit in the reducer . In that case , the structure of rotary head is compact with powerful output capability.
Main Winch adopts CSR Original driving structure of double motors and double reducers ( patent ZL 2008 20233925.0 ) In order to improve the service life of the rope , we make a large radius drum which is enough to contain the wire rope in one layer . Commonly , the overloading , friction and extrusion are minimized ; the service life of wire rope is improved greatly.
TR360D Rig applies the winch crowd system with 14m super long stroke , and provide stronger push-down force . t allows the CFA drilling and realizes the multi-function of the machine . It helps to go through the hard rock by continuous down-pulling of Kelly bar .
Electronic control system integrates high-standard engineering machinery controller , monitor intelligent sensor and other electronics , with precise measurement and monitoring . Realize the adjustment of the perpendicularity of the mast accurately and quickly .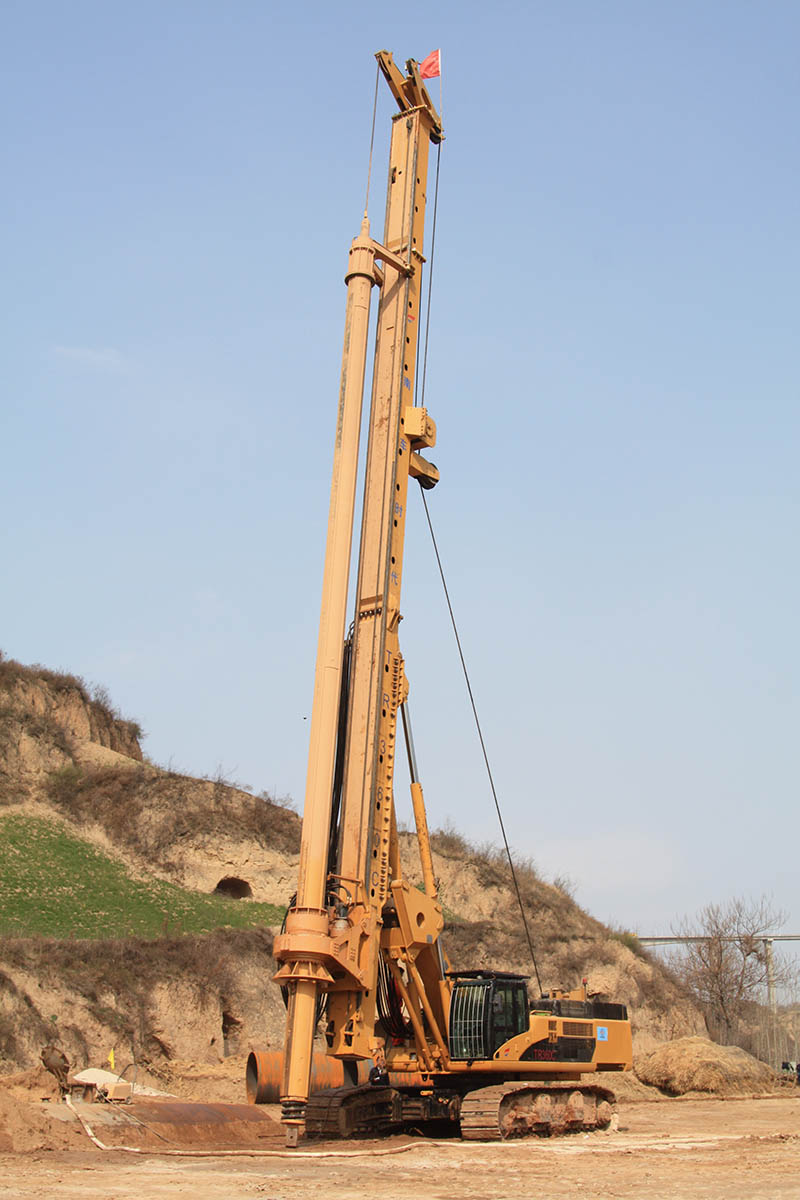 Perfect stability of the whole machine . The main winch is assembled on the rear of turret . The weight of the main winch acts the role of counterweight Large breadth of chassis ( 4400x5000 ) the big section box structure of the mast with better rigidity of mast ensures the perfect stability of the whole machine .
The controlling system records the rotating position of the upper body with the automatic positioning device in order to help the operator remember the correct position of the pile point automatically.
TR360D rotary drilling rig adopts Patented Carrier Structure ( patent NO : ZL 2008 20233926 . 5 ) to solve the transport problem of the exceed-sized drilling rig.
Full automatic turning mast with centralized lubrication system improves turning piece using life , reducing maintenance cost.
More reasonable depth measuring device .
---
Previous:
TR300 Rotary Drilling Rig
---