SPA8 Hydraulic Pile Breaker
Product Detail
Product Tags
SPA8 Hydraulic Pile Breaker
Specification (a group of 13 modules)
| | |
| --- | --- |
| Model | SPA8 |
| Range of Pile diameter (mm) | Ф1800-Ф2000 |
| Maximum Drill rod pressure | 790kN |
| Maximum stroke of hydraulic cylinder | 230mm |
| Maximum pressure of hydraulic cylinder | 31.5MPa |
| Maximum flow of single cylinder | 25L/min |
| Cut the number of pile/8h | 30-100 pcs |
| Height for cutting pile each time | ≦300mm |
| Supporting the digging machine Tonnage (excavator) | ≧36t |
| One-piece module weight | 410kg |
| One-piece module size | 930x840x450mm |
| Work status dimensions | Ф3560x3000 |
| Total pile breaker weight | 5.0t |
SPA8 Construction's Parameters
| | | | | |
| --- | --- | --- | --- | --- |
| Module numbers | The diameter range (mm) | Platform weight(t) | Total pile breaker weight(kg) | Height of single crush pile(mm) |
| 6 | 450-650 | 20 | 2515 | 300 |
| 7 | 600-850 | 22 | 2930 | 300 |
| 8 | 800-1050 | 26 | 3345 | 300 |
| 9 | 1000-1250 | 27 | 3760 | 300 |
| 10 | 1200-1450 | 30 | 4175 | 300 |
| 11 | 1400-1650 | 32.5 | 4590 | 300 |
| 12 | 1600-1850 | 35 | 5005 | 300 |
| 13 | 1800-2000 | 36 | 5420 | 300 |
The leading hydraulic pile breaker with five patented technologies and adjustable chain, it is the most efficient equipment to break the foundation plies. Due to the modular design the pile breaker can be used for breaking different sizes of piles. Equipped with the chains. it can work with different equipment to break piles.
The hydraulic pile breaker has the following features: easy operation, high efficiency, low cost, less noise, more safety and stability. It imposes no impact force on the parent body of the pile and no influence on the bearing capacity of the pile and no influence on the bearing capacity of the pile, and shortens the construction period greatly. It is applicable for pile-group works and is  recommended strongly by the construction department and  the supervision department.
1. Low-cost : The operating system is easy and convenient. Fewer operating workers are required to save cost for labor and machines maintenance during construction.
2. Environment-friendly: Its full hydraulic drive causes little noises during operation and no influence on the surrounding environments.
3. Safety: Contact-free operation is enabled and it can be applied for construction on complex land form.
4. Small volume: It's light for convenient transportation.
5. Universal property: It can be driven by diverse power sources and is compatible with excavators or hydraulic system according to the construction sites conditions. It is flexible to connect multiple construction machines with universal and economical performance. The telescopic sling lifting chains meet the requirements of various land forms.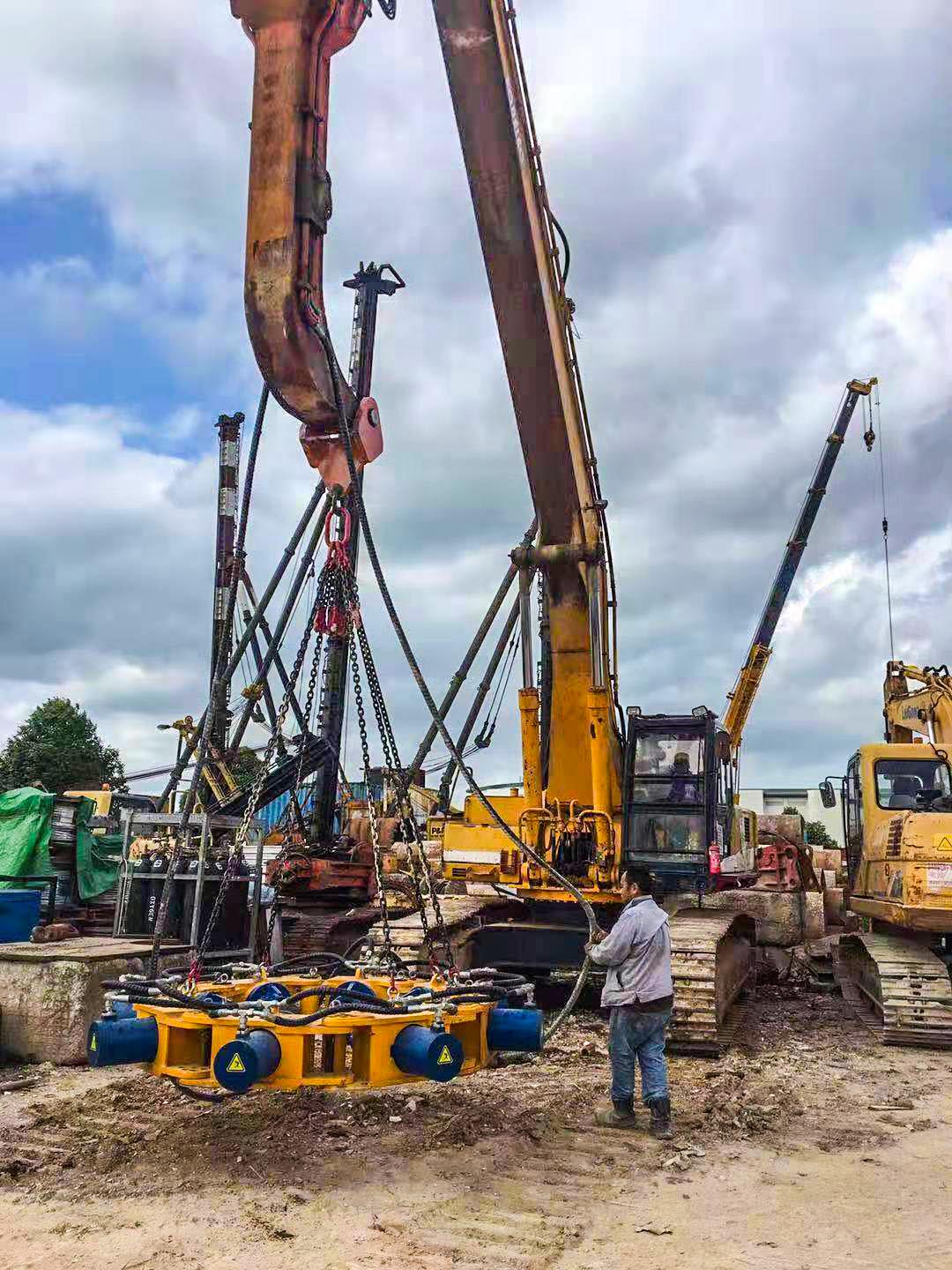 6. Convenience: it's small for convenient transportation. Replaceable and changeable module combination makes its applicable for piles with various diameters. The modules can be assembled and disassembled easily and conveniently.
7. Long service life: It is made of military material by first-class suppliers with reliable quality, extending its service life.
1. According to pile diameter, with reference to the construction reference parameters corresponding to the number of modules, directly connect the breakers to the work platform with a quick change connector;
2. The working platform can be excavator, lifting device and hydraulic pump station combination, the lifting device can be truck crane, crawler cranes, etc;
3. Move the pile breaker to the working pile head section;
4. Adjust the pile breaker to the suitable height (please refer to construction parameter list when crushing the pile, otherwise the chain may be broken), and clamp the pile position to be cut;
5. Adjust the excavator's system pressure according to the concrete strength, and pressurize the cylinder until the concrete pile breaks under high pressure;
6. After the pile is crushed, hoist the concrete block;
7. Move the crushed pile to the designated position.
---
Previous:
TH-60 Hydraulic piling rig
---